The Territory Screen Industry is delivering huge returns for the Territory economy and this week sees more investment into the booming industry, creating more jobs for Territorians. The Territory Government has provided $110,000 towards The First Inventors which is expected to deliver close to $500,000 in direct production spend back into the Territory economy.
The new four part documentary TV series co-commissioned by NITV and Network 10 will follow First Nations' experts, elders and scientists as they investigate the world of ancient Indigenous innovation.
The series will go to air in 2023 and is filmed around Australia, with iconic Northern Territory locations including the Tiwi Islands, Arnhem Land and Kakadu.
The series is co-created by Margee Brown and award-winning filmmaker, Professor Larissa Behrendt (Maralinga Tjarutka), who is also directing with Indigenous Territorian Cian McCue of NT's Moogie Down Productions and Ben Davies (Bondi Rescue, Outback Ringer) co-producing the series. Ben Commens (Further Back in Time for Dinner) is Executive Producer.
Produced by Ronde Media together with co-producers Moogie Down Productions, First Inventors has also received finance support from National Indigenous Australians Agency, Tourism Australia, Screen NSW with major production funding from Screen Australia.
A further nine Territory filmmakers have also received a share of $95,000 through Screen Territory's Round 3 Story Development Grant funding, which is designed to help screen practitioners demonstrate their talent and build capacity by supporting the development of distinctive Territory screen stories.
Highlight projects that have received funding from this round include Katherine resident Toni Tap Coutts to adapt her book A Sunburnt Country for the screen, Small Screen Productions for a documentary titled Twenty to the Mile, and Savage Films together with Brindle Films to develop a documentary titled Journey home.
For more detail on the latest screen funding visit Screen Territory – Funding.
Quotes from Minister for Mining and Industry, Nicole Manison:
"We are strengthening the local screen industry and in turn providing hundreds of jobs for Territorians."
"We recognise the importance of our local screen industry – telling unique Territory stories to the world while supporting a range of Territory businesses and jobs."
"The First Inventors will showcase the Northern Territory and our Aboriginal history to audiences around the country.
"We recognise the importance of our local screen industry and the economic flow-on benefits for Territorians – with over $10 million in economic return from previous investments."
Quote from Screen Australia's Head of Content, Grainne Brunsdon:
"Screen Australia is proud to fund this series (The First Inventors) that will explore the science, technology and complex knowledge systems of First Nations people. Created by a strong creative team helmed by talented director Larrissa Behrendt, The First Inventors is set to be a compelling series that I'm sure will have an enduring legacy."
Quote from First Inventors Co-producer and owner/creative Director of Moogie Down Productions Cian McCue:
"First and foremost The First Inventors is a celebration of culture. This series will allow mainstream audiences an insight into traditional knowledge systems, Indigenous science, innovation, ingenuity and invention."
Production credit: The First Inventors is a Ronde production for Network 10 and NITV. Major production investment from Screen Australia in association with NITV. Financed with support from the National Indigenous Australians Agency, with Tourism Australia and Screen Territory.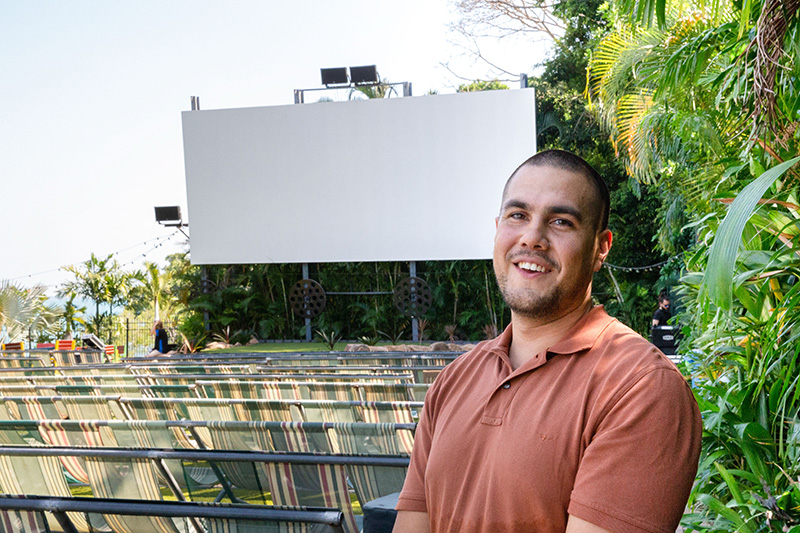 The First Inventors co-producer Cian McCue.